Wagerweb Sportsbook
Review & Legitimacy Rating 2023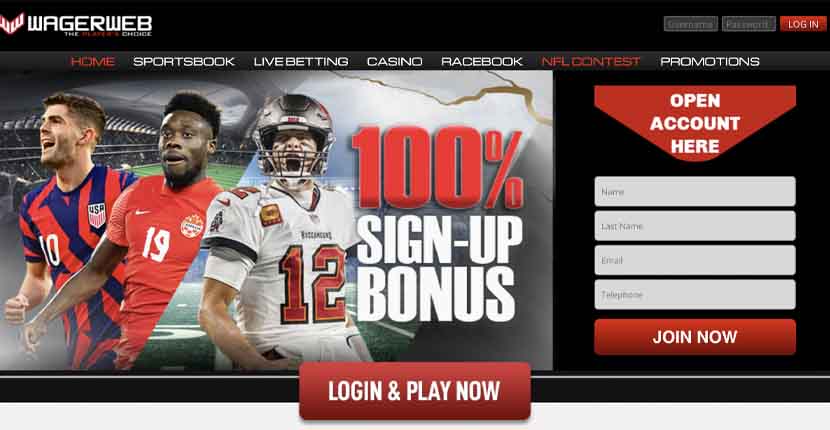 Wagerweb Sportsbook
Bonus
Established In 1998, Longevity In The Industry
Secure Mobile Betting App Available
Licensed In Costa Rica - Highly Reputable
Low Max $250 Credit Card Deposit Limits - Not An Ideal Site For Bigger Players
Established: 1998
USA Allowed: Yes
Licensed: Costa Rica
Bonus: 100%
Max Bonus: $1,000
With two decades of experience under their belt, WagerWeb enjoys the prominence that comes with being one of the pioneers of the online sports betting industry. They've been around a long time and over that time have become one of the most reputable and respected brands in the business, and their experience shows through the high standards by which they operate. They are a go-to destination for both US and International bettors, and they effectively provide a secure and professional wagering environment for sports fans to enjoy.
They've captured the essence of what a sports wagering experience is like in Vegas, and then enhanced and expanded upon that to deliver a more comprehensive range of options than you will ever see in a brick and mortar sportsbook. Even when I'm near a legal land based sports betting destination such as Las Vegas, I prefer the larger selection of reliable options that trusted online sportsbooks like WagerWeb offer me.
Is WagerWeb Sportsbook Legitimate In 2023?
Determining the legitimacy of the sportsbook brand which we are evaluating is the first and foremost step in our review process. After all, if they are not legitimately operating within the industry, there is no point in going any further in our review because we would never consider including them in this guide. WagerWeb is very transparent with the components of their operation that give them authenticity in the business, and we found our investigation into the inner workings of this brand to be very straightforward.
Here are some of the primary elements that support WagerWeb's sports betting site as being legit:
1. WagerWeb is licensed through Costa Rica, a very respected region for administering online gambling licensing and certifications. WagerWeb has exceeded licensing requirements at every turn, and maintains compliance certifications issued by the Costa Rican government. Being deemed compliant means that every element of your operation, including fair gaming practices and performance levels meet industry standards as overseen by regulatory authorities in their jurisdiction.
2. The quality of their betting, banking and support services is above average, reflecting expertise in line making as compared to the rest of the online and offline sports betting industry. Competitive betting and pay lines are the hallmark of a gambling brand that is dedicated to providing an authentic sports betting experience.
3. The security profile at WagerWeb demonstrates a strong commitment to player safety with high level security protocols that rival those found at world class financial institutions. They employ secure encrypted technology that effectively protects your personal information as well as your sensitive financial data.
4. The banking suite at WagerWeb supports both US and International players rather well through a variety of viable options for both groups. Withdrawal requests are simplified and processed in a timely fashion according to our personal experience during the review process and the feedback we received from players and other industry professionals.
5. We were very impressed with the level of knowledge and responsiveness we observed from WagerWeb's customer support team. We presented some aggressive issues and requests, all of which were addressed immediately and with satisfactory solutions and results.
Legal Licensing And Certification
Costa Rica has one of the most respected gaming commissions out there, and the country provides strong regulatory oversight to keep the gambling community safe and the businesses based in their jurisdiction operating at a high level of excellence. WagerWeb was established in 1994 in San Jose, Costa Rica, where they have remained since. They enjoy a close relationship with the Costa Rican governing authorities who have overseen and regulated this brand for decades. At this stage of the operation, they both operate and interact like a finely oiled machine.
Is WagerWeb Sportsbook Legal In The US?
WagerWeb is licensed outside of US borders in Costa Rica, where online gaming is legal. So this makes them legal for US players as well, as there are no federal laws barring players from gambling or betting on sports with operators outside of US borders.
Fair Bonuses And Promotions
We have negotiated an enhanced welcome bonus for our visitors that offers new players a 100% match bonus up to $1000 on your first deposit. To claim this bonus, you must use the link provided on this page. You will see during registration that a bonus code has been automatically populated for you. Their standard welcome bonus caps out at a 20% match, not nearly as profitable as our exclusive offer. In addition, Wager Web Sportsbook has special seasonal promos. An example would be the $5000 Bracket Contest they offer for the World Cup tournament. There is a friend referral bonus of up to 25% awarded to the top 3 players each month, and at times they offer additional bonuses for using a specific deposit method for fund your account. All of WagerWeb's bonuses are reliably clear and straightforward, so what you see is what you get.
Competitive Lines
We found the lines at WagerWeb to be highly competitive and on par with industry standards at both online and offline sportsbooks. Shopping lines is something that a discerning sports bettor does prior to placing a wager on an event to ensure they are accessing the most advantageous lines offered. WagerWeb is competitive with the other top brands recommended here and in general on the web. Their payouts and odds are set at respectable rates. With more than 20 years of experience under their belt, they know how to compete in this market, and it shows. You will be hard-pressed to find a more reputable online sportsbook.
Secure Wagering Options
WagerWeb has a very wide range of sports that are covered in their lines, including all the ones you'd expect, such as professional and college football, NBA and NCAA basketball, baseball leagues, soccer, hockey, golf, tennis, boxing, motor sports, and many other mainstream events. They also include some of the less mainstream options, such as darts, cycling, cricket, politics, among others. When you place a bet at WagerWeb, you can rest assured that you're getting one of the best, most trustworthy sets of odds online.
Instant Betting Confirmations
At WagerWeb, receipt of betting confirmations was instantaneous on each visit, which is actually a pretty important element to your online sports betting experience. It serves as your guarantee that your wager was received, and as your proof should any type of dispute or issue arise that needs addressing through their customer support staff. The accurate and speedy confirmations further solidify that they are a class act operation at every turn and they really have their ducks in a row. Every trustworthy book must offer instant wager confirmation. If that's not an option, then neither is the sportsbook in question.
Safe Banking – Depositing And Cashing Out
WagerWeb has a reputation for offering one of the best banking suites, featuring a great range of funding and withdrawal options and same day payouts. US players can choose from the following options to fund their account: American Express, MasterCard, Visa, EZ Voucher, MoneyGram and Western Union. International players have the additional options of Diner's Club, Visa Electron and Skrill.
As you can see, this brand thoughtfully included options that support both US and non-US players, and selected the most reliable and trusted methods to include in their banking platform. As US residents, we had no issues using our credit card, but found EZ Voucher to also be convenient and user friendly. Deposits occurred in real time with funds instantly added to our account. Payout processing was impressively fast and efficient, as well. We made both deposits and withdrawals multiple times during our review from multiple accounts, and always had consistently pleasing results, although their $250 credit card limits are somewhat laughable. Nevertheless, their banking suite is reliable and trustworthy in every sense based on our experience and feedback from other players and industry professionals.
Recently, WagerWeb jumped on the Bitcoin bandwagon, and the site now offers the secure cryptocurrency as a method of deposit and withdrawal. Bitcoin (BTC) is our favorite way to fund our WagerWeb accounts, as transfers have no added fees, are instantaneous, offer the best sportsbook bonuses, and come with some of the highest limits. Best of all, Bitcoin is the only same-day payout method at WagerWeb for US customers, which means you can count on getting your money in your pocket sooner than ever.
WagerWeb Sportsbook Summary – Customer First Reliability
We unanimously concluded that WagerWeb is among the most legitimate and reputable sports betting sites currently licensed to provide their services to US and non-US bettors. Their entire operation demonstrated a commitment to exceeding licensing requirements to offer an industry leading performance, comprehensive and trustworthy services, and a genuinely honest sports betting experience at every turn. We could not find fault with the services based on performance or range of options, and found even their administrative and support services to be reliable and efficient. We appreciated their transparency when validating their licensing, certifications and submission to regulatory oversight. This definitely reflects and honest, no-nonsense business approach.
While we would like to see more reload bonus opportunities, we felt that the rest of components of their operation definitely made up for that. Successful transaction approvals on credit cards and ultra fast payouts with Bitcoin make their banking suite a premium set up, and their selection of betting lines did not leave us wanting in any way. When trying out their secure mobile sportsbook application, we were just as pleased with the site's performance, and the range of options is identical to those offered in their traditional online environment. This was refreshing, as many lesser brands (not those recommended here) scale back on their mobile options and offer a watered down version of their original sites. WagerWeb does not do this in the slightest. We can easily recommend WagerWeb as a fully trusted and legitimate sports betting destination.