DSI Sportsbook
Review & Legitimacy Rating 2023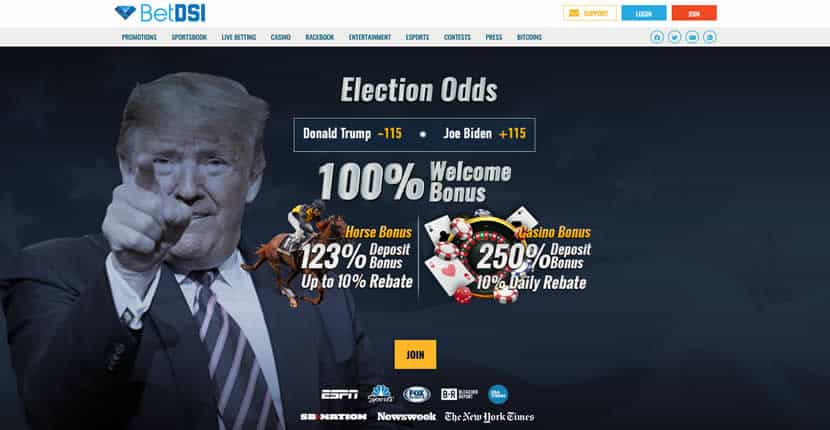 Secure Mobile Betting Apps Available
Fantastic Loyalty And Cash Rewards Program
Small Casino Compared To Some Other Sites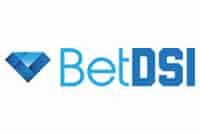 Established: 1998
USA Allowed: Yes
Licensed: Costa Rica
Bonus: 50%
Max Bonus: $500
Update 2023: We no longer feel DSI is a trusted option for USA and international players. We recommend choosing a more reputable online sportsbook.
Concerning legitimacy and safety, Diamond Sportsbook International – or BetDSI – definitely qualifies on both counts. BetDSI takes pride in its position as an established leader for safe and legally licensed online sports betting action for US and international players. NASCAR, NCAA college football, baseball and basketball, boxing, horse racing and NFL, NBA, MLB and NHL action is supported. The company uses a proprietary gaming interface which is frequently tested and updated. BetDSI is legitimate and safe, has achieved SBR A+ ratings, and is approved by the respected OSGA (Offshore Gaming Advisory Board). The company is also legally registered and licensed in Costa Rica for Internet sports betting, as well as online casino, poker and race book wagering.
As one of the more reputable and experienced bookmakers, BetDSI has been offering top-flight services since way back in 1998. European, US and international sports are supported, and you can even wager on entertainment events and television, as well as global political and social activities. The company offers an trustworthy live sports betting application, as well as secure mobile sports betting which includes horse racing. Safe banking options are plentiful, as are rewards and welcome bonuses, and the DSI BetPoints loyalty program is unique in the industry. Let's take a closer look as to exactly why we have identified the BetDSI website as a safe, legitimate and legally licensed provider of sports betting excellence.
Is BetDSI Legitimate?
Here at Legitimate Sports Betting, the typical Internet sports bettor usually does not know what qualities to look for that designate a "legitimate" Internet bookmaking operation. First and foremost, legal licensing must be present. Secondly, that licensing must come from a respected Internet sports betting jurisdiction. Banking needs to be swift, flexible, and safe. A wide variety of sports must be offered, as well as competitive and fair odds and lines. And finally, more than 10 years in business is a prerequisite before we recognize a sports betting site as one of the top legally licensed and legitimate destinations for US and international gamblers.
Here are Some Reasons We Know DSI Sportsbook is a Legit Operation:
1. BetDSI has been in business since 1998 and has achieved a high level of legitimacy through its unrivaled customer satisfaction.
2. Legal certification has been obtained from one of the top Internet gambling license providers located in San Jose, Costa Rica.
3. Convenient and speedy credit card betting is supported, with full SSL encryption like the global finance industry employs.
4. The company awards free BetPoints on all action which you can redeem for free money and other incentives.
5. Probably the most important, BetDSI is part of the BetCRIS family of sites, which aslo includes BookMaker. They are one of the most reputable names in the sports betting industry by far.
Licensing And Certification
As we mentioned above, the San Jose Internet gambling license provider located in Costa Rica has certified DSI as a legitimate online sports betting destination. This licensing includes access to US sports bettors. The San Jose, Costa Rica gaming operator regulatory body is recognized as one of the most prominent in the online gambling industry.
Is BetDSI Sportsbook Legal In The US?
Yes, BetDSI is licensed out of Costa Rica, which makes them able to accept United States players legally and safely. There are no US laws that prevent players from using offshore betting sites, as all domestic US laws apply only to operations on US soil. If you want a guaranteed way to bet real money on sports, BetDSI!
Fair BetDSI Bonuses And Promotions
The Diamond Sportsbook International sports betting site allows you to choose from several sign-up bonuses. Head over to the official sports book promotion page and you'll see a list of the current welcome bonus offerings, as well as a "latest promotions" tab. A standard 20% sign-up bonus is earned when you deposit $100 or more. This comes in the form of a 20% free play bonus worth up to $500, accompanied by a 5X rollover. If you would like to drop that rollover requirement to just 3X, then claim the 10% free play bonus up to $500.
From time to time, special 50% and even 100% free play bonuses are offered at a 10X rollover. When you return to make subsequent deposits, you enjoy a 10% free play bonus with up to a $500 value and a 5X rollover. Enjoy talking smack to your friends when your bets win and theirs do not? Every friend you refer to the site that signs up for an account and makes a cash deposit of $300 or more, earns you a 20% free play bonus up to $300. BetDSI also gives you BetPoints as a part of this rewards program. Every time you gamble, you earn these "frequent flyer" rewards. Spend them on free play bonuses, cash withdrawals, Amazon gift cards, and handicapping services. BetDSI bonuses are fair and transparent, giving you peace of mind every time you accept a new offer and pad your bankroll.
Are the Lines and Odds at DSI Competitive?
Getting competitive odds and lines is extremely important, as you well know. BetDSI has been successful since 1998 in part because they offer attractive "numbers" on their spread, money line, total, parlay, teaser, futures, and alternative wagers. Those attractive and competitive lines extend to the political and entertainment events which are also offered for wagering, as well as all horse racing action. We always recommend signing up at multiple books to shop lines, but if you choose BetDSI as your single gambling source, you know that the lines you get are up-to-date and reputable, right in line with other trusted sportsbooks.
Comprehensive Betting Options
The sports betting options at BetDSI are extremely diverse and numerous. The actual types of wagers you can place include sides, totals, parlays, teasers, if-bets, reverses, futures, money lines and buying points just to name a few. National Football League, Major League Baseball and National Basketball Association wagering includes standard bets, as well as first and second half bets and quarter lines, totals and propositions. Golf, boxing, tennis, NASCAR and horses are also on offer. Cricket, soccer and other popular European sports are available for a series of wagers, as are surfing events, volleyball, martial arts, political elections, television and celebrity events. Betting on reality TV, Formula One racing or NFL football is all available from the same website, with mobile access provided. Live "in game" betting is also on tap across a number of sports. If you want trustworthy odds and realistic lines, you can bet the house on BetDSI.
Speedy Betting Confirmations
When you place a wager, whether on your desktop, laptop, tablet or smartphone, you can check in your online account to see that the bet has been made. As long as you have money in your account to cover your wager, betting confirmation is quick and reliable. Without speedy confirmations, of course, you might get hung up in a line shift and lose value on your wager. That's never an issue at BetDSI, which is just another reason why the site is considered one of the most trustworthy sportsbooks on the Internet.
Secure Banking – Depositing And Cashing Out
At BetDSI, getting money into your account is lightning quick when you use your Visa or MasterCard (supported for US and international bettors). You can also choose bank wire and bank draft options, as well as a money transfer. Click2Pay, NETeller and EcoPay are additional international options. We found that withdrawals were just as safe and secure no matter which route we chose, with a wide variety of options suitable for nearly every player. However, like most sites in this category, the best banking option is Bitcoin, which BetDSI was one of the first to accept.
Depending on your country of origin and withdrawal type, DSI guarantees payouts in your hands in as little as 1-2 days (or less if you use Bitcoin, which clears in just a few hours). You should always contact the friendly customer service department for complete details of all your options, but you can expect Bitcoin, bank draft, NETeller, person-to-person, Click2Pay and EcoPay options for cashing out your winnings. Not all deposit and withdrawal options are supported in all countries, except for Bitcoin, which is also the safest and most secure money transfer platform in the world.
BetDSI Sportsbook Summary – Diamonds And Reputations Are Forever
Diamond Sportsbook International definitely hits all of the positive points we like to see before we recommend a sports betting site as legitimate, safe and secure. We demand legal licensing from a respected online gambling jurisdiction. DSI has that, as well as plenty of speedy banking options and an extremely diverse lineup of sports and wagers supported. In a very competitive industry, companies do not last for generations unless they are doing a lot of things correctly. BetDSI is doing all of the important things better than almost all of its competition.
The reputable sportsbook's loyalty program lets you accumulate free bonus points on every wager you make. The encrypted, secure mobile betting interface includes horse racing access as well as standard sports betting, and live "in game" wagering is available as well. All the big leagues and eclectic, smaller sports have action. Sports bettors from the USA are accepted as are international gamblers. You can even enjoy a busy poker room or RNG-certified fair iGaming casino without leaving the website or accessing a different account. BetDSI is consistently one of the top ranked online sports betting sites, with industry awards, legal licensing and overall excellent performance designating it as one of the top legally licensed and legitimate sports betting destinations on the web. BetDSI is no diamond in the rough, either. This is a grade-A gem of an online betting destination!