Topbet Sportsbook
Review & Legitimacy Rating 2023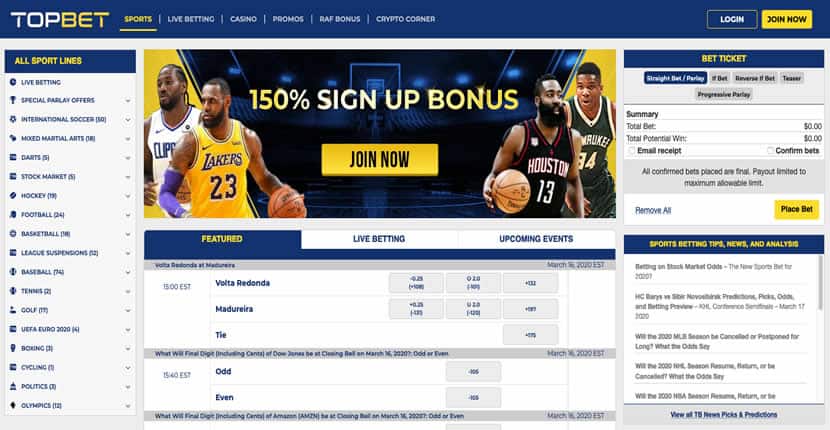 Crypto Currencies Accepted
There Are Many More Reputable Sportsbooks To Choose From
Had Numerous Player Complaints In The Past With Payouts
Established: 2011
USA Allowed: Yes
Licensed: Curacao
Bonus: 50%
Max Bonus: $250
Update 2023: We recommend you choose another site to signup with from our recommended sportsbooks list.  If you are a USA player, check out our USA list here.
Introduction – Located in the British Virgin Islands, TopBet is one of the newer online sportsbooks. One of the site's biggest claims to fame is that they have no issue whatever in catering to the United States audience. While many sites will shy away from this, TopBet embraces American players and gamblers from the USA actually make up a rather large part of its base. TopBet is known colloquially around the Internet gambling community as "the better mousetrap." It has developed this reputation since different authorities in gambling converged to create a site that catered to a broader audience and offered more sports betting options than your average online sportsbook. The result is a very thorough site on which you can bet practically any type of line on any sport you can think of.
From their award-winning management and ironclad security to the seamlessly integrated software that functions smoothly on any operating device, TopBet scores a solid A across the board in its categories. Add in some lucrative bonuses and promotions, and some sports you won't find anywhere else, and TopBet is easily a good pick for gamblers looking to wager on sports.
Is Topbet Sportsbook Legitimate?
To understand if a website is legitimate, we like to pay very careful attention to a long list of criteria. We're looking for sites that have good support, good software, a lot of options, tight security, many banking options, and a dozen other categories. We want sites that score near the top in every category, and only then will we call them legitimate. For TopBet, there are a few different things that stand out about the site and company.
Why TopBet is Considered a Legit Choice
1. TopBet is an industry leader at offering ironclad security for its customer base. Their SSL technology is leading the entire industry and is often emulated by other casinos and sportsbooks looking to open up in business.
2. The site not only allows for US players to join, it actually caters exclusively to an American audience. It's rare to find an offshore sportsbook that's basically set up like an American sportsbook. Of course, they still offer tons of international options, but any American will feel very much at home on this US-centered site.
3. Most people who encounter problems on an online gambling site only experience minor problems, but minor or major, TopBet has a customer service team that is quick and kind, and they will walk you through the issue slowly so that you can get things figured out quickly. Many sites just gives you generic boilerplate and expect you to figure it out; TopBet is very attentive.
4. Topbet has legitimate licensed out of Curacao, a trusted destination for many top shelf offshore sportsbooks.
Licensing Info
TopBet doesn't keep their personal information close to their vest. Anyone interested in finding out can read about the site's open presence in the British Aisles and their licensing information out of Curacao. Understand that while this might seem like a smaller, inattentive authority, the opposite is actually true. For Curacao to remain reputable in the gambling world, they must hold their licensed sites to strict standards, and you will find that the gambling authority in Curacao keeps a site like TopBet under the microscope to ensure fair dealings.
Is Topbet Legal For USA Players?
Yes, because they are located offshore they are ultimately out of the reach of the US government and do not need to adhere to US gambling laws. As we always say, as long as the site you are betting at is not located from within the United States, the site itself is not breaking any laws and can legally accept action from Americans.
Bonuses And Promotions
TopBet's bonus seems a bit on the iffy side at first, but you have to delve into the fine print to realize it's actually a bargain. Their welcome bonus is a 50% deposit match of up to $250, which means that putting in $500 can get you $250. With most sportsbooks and casinos, you will receive this money in very small increments depending on your wagers. With TopBet, you get the money in larger increments so you can bet with it and clear it a lot faster. Then they also offer up a 10% reload bonus, which is really easy to get. Whenever you deposit more money into your account, you will receive a 10% boost, so $10 on $100. It doesn't seem like a lot, but an additional few bucks can go a long way when betting.
Be sure to check in with the site, as they are constantly changing their promotions and offering new ones. For instance, you can often find 20% bonuses of up to $200 on certain sports, or special cashback rewards for certain types of bets you make. These promos are typically seasonal, so you'll find different ones offered for the NFL season, NBA season, MLB season, etc.
Betting Lines Offered By Topbet
One of the biggest highlights of betting with TopBet is that you can find practically any sort of line you're after. From point spreads and straight bets to O/U lines and even live-time betting with quarter-by-quarter action, they have those options available. You can even find some proposition bets when dealing with TopBet, which means you'll be betting in a niche style, typically with other members and not the house, so you can find a wide variety of lines and betting topics on a variety of sports. This inclusive style of betting basically gives you a little bit of everything except fantasy.
Available Sports
Many sportsbooks online may seem derivative in that they all typically offer the same basic sports. For instance, you can find football, baseball, basketball, Olympic games, soccer, and a range of other popular sports on TopBet, as well as many other sites. So what makes TopBet different in what they offer? For starters, they offer a global network of sports, which includes cricket, footy, and other international sports that may not be so popular in the USA. They also have a lot of collegiate sports, so you won't have to go to a special sportsbook just to keep up with the college action. You can find everything you need with TopBet.
Banking Options at TopBet
The banking options offered by TopBet, for depositing and withdrawing funds, need to be streamlined and current so that they cater to a US-based market. However, one of the site's downsides (which in context earns them a B instead of a solid A) is that they don't have a ton of options available. But these options are viable for US players and include MasterCard, Visa, Western Union, and QuickCash. These methods are instant, all but Western Union, and credit cards tend to have a lot of success on TopBet. For withdrawing your money, most people opt for the check, delivered as priority mail, and this typically takes 8-12 days. It can be a hassle, but TopBet may venture into the BitCoin and PayPal markets in the near future, as more US methods become available. For right now, the options are a bit on the limited side.
Topbet Sportsbook Summary
For players from the USA, Topbet is in the middle of the pack. We recommend finding another trusted USA online sportsbook to play at. They have a valid license on a site that's very secure and constantly regulated. They have a wide assortment of betting lines and betting options, and you can find almost any sport you want to bet on. Being a secure, licensed site with so many options makes TopBet stand out for Americans like few sportsbooks are able. Then you get into the finer details of the site and realize that they do the little things a lot better than some other sportsbooks online. For instance, their bonuses clear easier, their customer support is better, and their banking, while not offering a lot of variety, is usually seamless and easy to deal with. Throw in some reload bonuses and a lot of sport-specific promotions, and you have a sportsbook that definitely earns high marks as a legitimate gambling website. The only reason we currently give them 4.5 stars is because their payouts take a tad longer than other sites, although they always pay. Plus they haven't adopted Bitcoin which is a big deal for many US players. Once that changes and their payouts are quicker, we will change our rating accordingly.